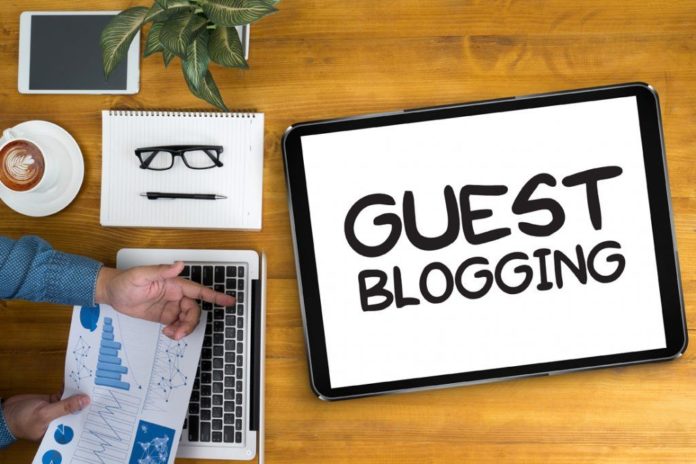 Guest blogging is a branch of content writing and an excellent strategy for digital marketing. Writing most likely seems a passion for many readers. However, it is not just a combination of words, thoughts, phrases, and information. Writers are professionals who contribute to the field of advertisement and business of various niches.
The trend of blogging is old and famous among people belonging to the eCommerce industry. You may know it exists since the birth of Web 2.0 and is beneficial since then. Bloggers can be different than writers and play a significant role in the promotion of a company. With the growing trend of blogs and content, the benefits of guest blogging are necessary to understand.
What Is Guest Blogging?
Guest blogging, as per its name, is about writing blogs for other advertisers. There are plenty of guest post sites on the internet. These give an opportunity to bloggers and allow them to write for their webpage. Owners set particular rules and niches for their websites and ask writers to create content accordingly.
Blogging sites allow writers to add the back links of their brand pages in the author's bio and thus gain advantage from their traffic. You can be a part of this strategy and boost up the growth of your business. This strategy is beneficial in promoting valid discount codes, latest products, unique services, and much more. It is because guest blogging is an excellent way to advertise your company through writing.
Also, there are contributor sites that you can select to enjoy the benefits of guest blogging. Here is a collection of the top benefits you can enjoy through this type of blogging.
Benefits of Guest Blogging
The best tactic to share your brand's message with others is to write for other websites. You can always win the trust of a loyal audience by contributing your blogs for guest platforms.
Most often, marketers fall victim to a negative vibe in the case of giving time to an unknown site. Therefore, look forward to the benefits of guest posting.
Increase Quality Traffic
Most of the popular guest post sites have a massive amount of ongoing traffic. Publishing a blog on such a website makes a path for the audience to redirect on your page.
Authentic sites will bring you quality traffic, and you will find an increase in your audience. Once a high-quality post goes live, you can find interested users visiting your website. Traffic is one of the vital needs to boost up sales for your business. Therefore, you can consider writing for another site.
Build Domain Authority
The benefits of guest blogging include the building of domain authority. Informative and authentic content encourages the audience to trust your brand. You belong to an era of 'fake news and unauthentic information' therefore; guest blog sites are a great way to let readers know you own a trustworthy brand.
Authority is an essential element to boost up the growth of a business. Have authentic and robust referral links for your content and gain positive outcomes.
Increases Back Links
Having quality back links is always beneficial for your website. With the changing digital marketing trends every day, search engines value the quality of back links and make you discoverable.
However, building a back link is not similar to the old days. Now, you must create an authentic connection between both the sites for letting readers redirect to your website for a particular purpose. Try to target guest post sites that promote your niche and help you in maintaining maximum relevancy.
Improve Your Writing
Writing improves with time and practice. It is an authentic and distinct advantage of guest blogging. You can keep posting blogs on other sites unless you earn a strong readership.
Creating a masterpiece blog is possible if you are able to rephrase a blog always. Increase the readability of your content while decreasing the percentage of passive sentences. Once you master the art of writing high-quality articles, you can avail of the benefits of guest blogging by referring to popular sites.
Social Media Growth
Guest posting is an effective method for enhancing your growth on social media. You can quickly create a quality profile on different media channels through writing.
Most often, you can link your social media profiles in the author's bio and redirect users to your account. Also, media is an effective platform where you can share authentic stories, reviews, and other content relating to your brand. Try to avail the benefits of guest blogging by increasing your online presence of popular channels.
Enhances Brand Awareness
Writing guest blogs also helps people in recognizing your brand. By helping your venture to become discoverable for search engines, you can boost up brand awareness.
The internet nowadays has a massive amount of competition in the market. You must make sure people can find you. Therefore, keep sharing unique details about your business and let the audience learn about your products and services. Always prefer relevant guest post sites and increase availability in maximum areas. The benefits of guest blogging are many; hence, keep in going for advertisement.
Useful Community Feedback
Plenty of guest sites and contributor platforms allow readers to share comments and give feedback on your blogs. It helps you in analyzing the interest of people in your content.
Having constructive feedback enhances the quality of your digital marketing techniques. You may have seen people sharing ideas and tips in the comment section below posts. Going through these comments will always help you in enhancing communication between you and readers. With this, you can adjust your plans and enjoy the benefits of guest blogging.
The Final Thoughts
There are several more benefits of guest blogging that you can avail. These are some of the most popular and obvious advantages that high-quality guest post sites offer you. Always connect with some of the best guest post sites and make the most of content writing.
Just because you believe writing for an anonymous person will not benefit you does not mean it is a fact. You will earn back links, authority, brand recognition, and much more.