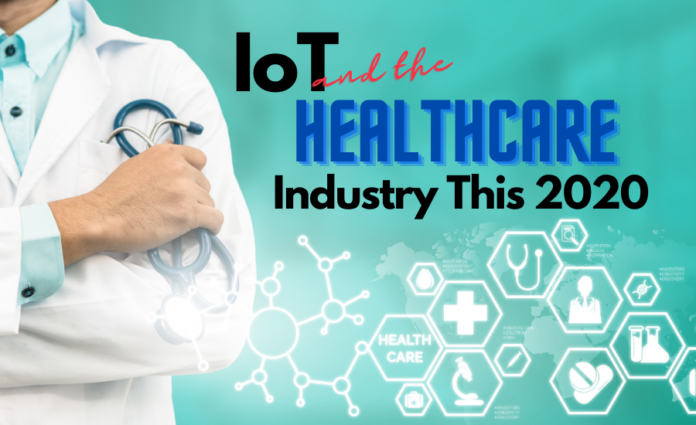 Healthcare is one of the industries that the Internet of Things or IoT will impact in the coming days. IoT has created a tremendous effect on how many businesses, communication, and others operate in these modern days. It also has influenced the lives of countless communities around the globe.
Technology has significantly impacted various fields and drove a digital transformation like in the banking industry. Information obtained from the Internet of Things concerning the medical field makes it possible to deliver healthcare more effectively and creatively. It can provide added details that can get in this technological innovation.
What Is IoT in Healthcare? 
Experts anticipate that the number of connected devices will continue to soar in the coming years. In the last five years, it has exhibit tremendous growth. It is projected that the market penetration of IoT devices will surpass 30 billion units by 2020 and will reach up to 75 billion by 2025. Many expect that the IoT in the healthcare industry is expected to hit $534 billion by 2025.  The compound annual rate is expected to grow at $322.2 billion by 2025.
IoT in the healthcare industry can be used in many different ways. It is poised to be used as an aid for efficient diagnosis and treatment procedures for healthcare professionals. Many facilities are now finding ways to incorporate IoT into their processes. The likes of hospitals, nursing homes, and other medical infrastructure.
The dawn of smartwatches can like Apple Watch, which has significantly impacted how people make health a part of their lives. The intention of living a healthy lifestyle has now become very evident.
Impact of IoT In The Healthcare Industry
Aids In Data Assortment and Analysis
Data are essential tools in the healthcare industry. Vast amounts of data are collected every single day by many healthcare facilities. While it can be a great aid, manually analyzing this data would become an unimaginably challenging task.
With the help of many IoT devices, this challenge can always be jumped over. It can capture, monitor, and evaluate data in real-time, eliminating the need for original data to be stored. All this can happen quickly on the internet, with doctors having access to the latest health diagram reports.
IoT can offer robust analytics essential to healthcare professionals. These insights are accurate, less prone to human error, and can become an excellent basis for any decision making the journey.
Helps In Real-time Monitoring
Tracking real-time patient conditions help to provide faster and more efficient care. Emergency reporting via a mobile app enables physicians to access information more efficiently and deliver high-quality treatment even before entering the hospital.
All information is gathered and securely stored over cloud storage. It can be conveniently shared with the relevant people, such as a doctor, consultant, or insurance provider, irrespective of their location and time differences.
The dawn of IoT has created a significant impact on many industries' operation management. These days, when visiting any hospital, you are met with several medical equipment, hardware, and other technologies. IoT in the healthcare industry is assisting health care programs to monitor, document, and schedule changes on infrastructure properly. When the hospital equipment becomes more integrated, personnel would be keen to find and adequately administer their supplies.
There would be no automated treatments without any real-time data. While this may seem impossible a few decades back, IoT sensors and devices can now use sensors to monitor the patient's physiological data. Sensors are searching for changes related to the diagnosis or condition of the patient. When the review of this data shows that a patient could do with some care or medication, the sensor may be directed to provide it.
In the medical field, research is essential. With the rise of technology, research does not need to be so hard these days. IoT may also be utilized for testing purposes as it helps gather an enormous amount of information on the individual's condition.  All of this information collected can be used in a quantitative test to promote clinical research. Newer and enhanced innovations and procedures increase the healthcare quality accessed by patients discovered through this study.
A Smart Lab is comprised of lab equipment that is capable of tracking and transmitting data. Capturing accurate lab data allows medical information to be shared across channels and devices. That gives researchers and healthcare professionals can have more efficient avenues to share and join data.
Smart Labs enables the hardware to control and make alerts remotely. Receiving alerts about equipment failure can make necessary repairs and adjustments. This process can help prevent the loss of invaluable funds and materials. Besides lowering the cost of losses,  Smart Labs save health systems budgets and relative funds by notifying administrators when there is a need for maintenance. This prompt can lead to promptly delivering actions to maintain machineries.
Technology is impacted daily lives with wearables and smart devices that enable anyone to track and refine health data. Nowadays, many IoT-enabled wearable devices and implants aim to monitor the health of the patient. These devices are attached to different body parts to allow physicians to monitor the patient's condition in real-time and provide hands-on care with greater precision.
Surgical robotics is now to some degree in use but will play a more prominent role as healthcare technology matures and uses IoT. The accuracy that can be achieved by AI-guided robots would exceed the abilities of even the most qualified human surgeons.
An interesting instance of IoT advancement affecting eye conditions is advanced tear tracking. A significant application of tear tracking is the measurement of glucose levels. Moreover, people with diabetes will be alerted of their daily glucose levels through a tear.
IoT innovators developed pair contact lenses and smart sensors that can aid in improving various eye conditions. A sample of this is how researchers have been developing a contact-based solution for presbyopia. Presbyopia is farsightedness that is often caused by a loss of eye elasticity. Sensor-connected contacts help those with this condition regain better quality sight.
Diagnosis detection and care are potentially the most far-reaching breakthrough on the checklist—a variety of recent IoT technologies help medical professionals coordinate without any need for face-to-face visits.  Monitor patients remotely allow patients to get better care while saving money.
IoT technologies for symptom monitoring include Bluetooth devices that synchronize with patients' devices and then transmit data to the supplier's software. When patient data is transmitted in real-time, practitioners have a greater chance of detecting developing adverse effects before they turn into a concern. When systems that track patient data become smarter, patients may receive better quality treatment in a more reasonable time.
Final Thoughts
You can find a lot of potential growth and room for improvement with IoT for the healthcare industry. Like other fields, one can expect a digital transformation in the medical industry. These days,  there are plenty of experts working on addressing current problems and testing hypotheses to provide better healthcare services.  A better understanding of what IOT looks like in healthcare allows you to keep an eye out for new developments.