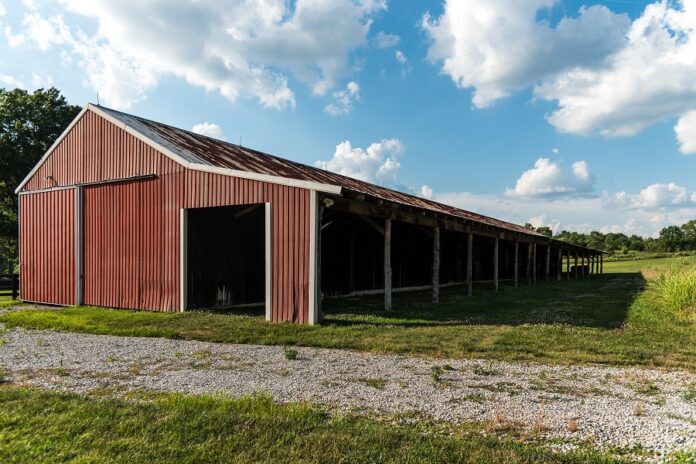 Wondering which metal building size will suit you the best? Here's a quick guide on choosing your custom barn based on external factors, budget, laws & purpose. So, let's quickly dive into it.
Before Selecting your Carolina Barn, Consider A Few Things:
Intent of Use
The final size & shape of the custom barn will depend largely on what purpose your metal building will serve. Do you want it to shelter animals, store farm stuff, or open a retail shop? Before deciding on the dimensions of your farm building, it is crucial to have a clear idea of what you intend to use it for.
Budget
This one is simple. You are paying for the steel. So, the more you weigh, the more you will pay. To cut costs, you can do some smart planning here. For example, instead of increasing width, try to increase length. Why?
You see, increasing length is more cost-effective than increasing width when it comes to metal building. This will not only increase your square footage but also lower the cost.
Site Availability
You won't want to end up with raw materials that do not fit your site. It would be a waste of money. So, always calculate the available area for installation before deciding to build a structure on your property.
Ensure you have a plain, leveled-up site ready for construction. It would help in fast installation.  
Potential Future Expansion
Do you have expansion plans in the back of your mind? If you do, ensure to talk to your metal dealer about it. Planning and building a custom barn project with room for future expansion can be a cost-effective solution in the long run.
What is Your Purpose in Buying A Metal Farm Building?
Is it for the storage?
If yes, what are you looking to store? Is it feed & crop? An average Carolina barn height would suit you. If you want to keep heavy duty & oversized vehicles, then choose a higher barn size.
You can choose 60×80 or 60×120 for storage with a height of 16 feet. You can even size up or down as per your needs.
Is it a multi-purpose building?
Are you thinking about multi-tasking in your farm building? The good news is – you can do so. You can have a designated office space & the remaining place can be used as storage of crops & farm equipment. You can choose a wider farm barn if you have got large machinery.
In case you are looking for a commercial metal barn, you can have interior sections divided to serve multi-purpose.
You can choose 40×60 or 60×100 for storage. You can even size up or down as per your needs.
Is it for the workshop?
Are you constructing a steel barn to use as a workshop? Be it an auto-work shop for repair or a wooden workshop, a custom barn will serve you well.
Even if you want to commercialize your workshop, you can still do it. A custom barn made of steel needs less upkeep so you can focus on your business growth.
You can choose 60×80 or 80×120 for storage. You can even size up or down as per your needs.
Is it for the livestock?
Sheltering animals like cattle, chickens, pigs, or even horses can be done easily with a Carolina barn. Plus, you get a sturdy structure. With steel, you don't need to worry about your animals getting infected by fungi & mold growing in wooden posts.
You can choose 40×60 for a medium size animal or 60×120 for larger animals. Note that size will vary with the headcount, so more animals will need more space.
Is It Meant for Human Occupancy or Commercial Use? 
How many employees do you want to accommodate in your farm building? The larger the number of people, the larger the building size.
A retail store or a commercial office requires employees to work long hours. Hence, your steel barn must be structured appropriately with all necessary add-ons so people can efficiently work. It would be best to plan for the living area, rest area, restrooms, and a canteen.
You can choose the size depending on the number of employees & type of business.
What are The Most Popular Farm Building Sizes?
40×60

30×50

30×60

40×100

50×100

100×200
Note: You can get a clear span Carolina barn up to 300 feet in width. Just for your reference, that's almost the entire length of a football field.
Finally, What Size are You Ideally Looking For?
Height – depends upon how high your machineries are or if you are looking for a mezzanine.
Length – Long length allows for depth storage. You can keep frequently used items in the front row & rest at the back.
Breadth – Adequate width is crucial for oversized vehicles, airplanes like crop dusters, and personal crafts.
Sq. Ft. – The square footage of a metal building is calculated by measuring the outside dimensions of steel; e.g., the square footage of a 50×70 custom barn is 3,500 sq. ft.
How About That:
We hope this small yet detailed info about the various sizes of metal farm buildings & how to choose from them has helped you gain a few insights. At times, choosing steel barns can be tricky. If you feel a little overwhelmed, you can always talk to a metal dealer. Have a happy Carolina barning!