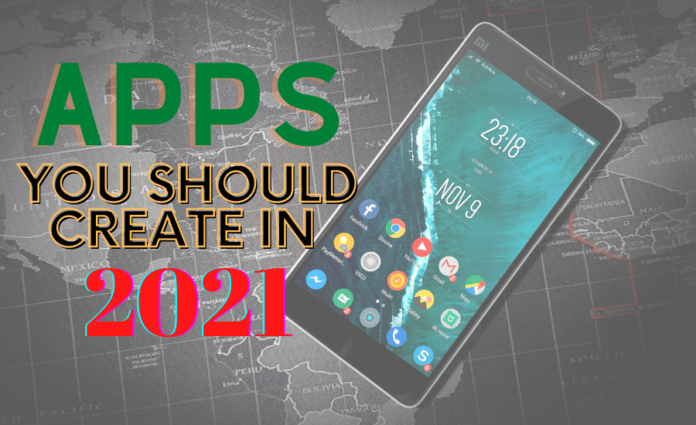 The average person's daily life now consists of communicating and processing content through mobile devices. It's pretty hard for someone to consider going to sleep without doting on a smartphone and getting immersed with a mobile app. There is no doubt that there the market for mobile apps is growing each day. That is why, as a developer, you should know what app you should create in the coming years.
It is wise for a developer to take advantage of the situation and have an idea on mobile app development trends in the coming years. You must know what kind of app will appeal to mobile device users and what the future awaits for most apps. You also need to learn about the methods of earning money from any app you've made. However, to ensure that your app will succeed, you need to develop a new concept that can be widely accepted and become a norm.
Kinds Of Apps You Need To Develop In 2021
The dawn of mobile apps has made a significant impact on how people live their daily lives. As the year is drawing to an end, a number of mobile apps can become a breakthrough and change the world entirely in 2021.
1. Restaurant Reservation
Restaurants typically retain 80-100 percent of its tables, while some will have at least 20%. However, they both can offer an option of a reservation. Although there is already an app for a quick reservation, a new approach is required these days. It is not enough to incorporate only table features. Instead, it needs to add features that will be more user-friendly and more advanced in table reservation terms.
Your app should aim to display the interior and exterior of the restaurant digitally. In such a way, the user will select the most desirable seat even before the visit. Also, this app needs to function in real-time. Consumers will then book a table half an hour before arrival and not lose time finding a seat in the restaurant.
2. Simple Parking
As progress continues in major cities, traffic is also becoming a problem. More cities are now experiencing an influx of vehicles that leads to traffic jams. Apart from traffic congestion, this development generates one more question, the struggle for a driver to locate a parking space. Furthermore, aside from the ease of parking, the traffic code must also be regarded.
Because many people get a parking fee or a vehicle being driven to court because of a parking ticket, any driver would be satisfied with a traffic app. This app could locate a suitable parking space for him, regardless of the city or district. To do this, you need to incorporate traffic congestion from Google Maps into the app. Give the app access to the traffic cameras and enable the car's geolocation to be used. Lastly, link the app to any parking database to allow users to see any parking availability.
3. Public Transport Navigator
Sometimes, search engines do not reliably display the approximate time of arrival for public transit. This dilemma is solved by a different online resource and by placing GPS sensors in public transport. Nevertheless, consumers cannot track the map on a daily or regular basis.
Thus, people sometimes don't make it on time and have to wait for another one or call an expensive one instead. However, this dilemma can be overcome by two actions. One is to integrate the timetable and monitor the transport in one interface. The other is the development of a method of warning of the need to stop. With this app, customers can conduct their business at home or anyone else's place while having the best transport services made possible through mobile apps.
4. Mobile Designer
People are always in fashion. Many are trying to look good for years. No matter how costly it can become, many are still trying to look fashionable. Many celebrities and well-known personalities hire personal designers to develop unique combinations of clothes to make them appealing to the public. However, for ordinary citizens, this can be very costly.
As every person needs to select clothes every day, a mobile designer app can come in handy. It is an incentive for anyone to look good. This app can gather data like height, weight, skin tone, eye color, most frequently visited activities, and style preference. This information will help find the best fashion combination for a particular app user. As a result, the mobile designer app will allow the customer to be trendy every day without spending a large sum of money.
5. Alternative Medicine App
The essence of home remedies found throughout the history of time varies from place to place. However, as people leave their hometown nowadays, the raw materials for these age-old Granny cures cannot always be available. The alternative medicine app proposes to create a stand-alone healthcare app that solves the dilemma.
This app can include a repository of all home remedies, mainly categorized on geographical and cultural lines. Present location information will figure out the kind of drug that the patient should pursue. There is also a need to identify remedies based on symptoms and disease. To make your app more efficient, incorporate "call the doctor" as a last resort.
6. Try-On Mobile Store
People love to buy things. These days, many are relying on the internet to do their shopping haul. To elevate user experience on online shopping, you can incorporate Augmented Reality (AR) software to improve the user interface.
The idea is to create an online eCommerce app that contains items that a customer can try before checking out. The shop will have several parts, such as toys, ornaments, make-up, accessories, watches, and whatever a buyer wants to want to try before buying.
7. Authenticity Verifier
In recent years, the selling of second-hand products has become increasingly popular. That is encouraged by the growth of services such as eBay, Amazon, and more. However, the biggest problem with this operation is a massive amount of low-quality products. Unfortunately, many customers fell victim to deception and buy a fake item under the original guise.
Modern manufacturing capability enables nearly all products that are fake to appear very close to the original. Only a human practitioner or an advanced technology may make a distinction between the real and the false. For this very cause, it is essential to develop a mobile app that can assess an item's authenticity.
The incidence of such fraudulent acts would be considerably low. In comparison, the respective market operators would have fewer issues because of fake items.
8. Emergency Alerts
Street robberies are a part of life in every country. However, aside from this, people also experience sudden health conditions, collapsing buildings, falling branches, or other force-major situations. If it occurs in a public area, particularly during the day, support can come fast. But it is extra challenging if it happens in remote areas or the middle of the night when no one is around.
The way out is an app that will warn all phones within a distance close to the survivor. All that is needed is a geolocation tag. Such an app can help address many issues at once. With this app, it is possible to call a few hundred people in the community about support. Respectively, the chance of receiving support increases as well.
Final Thoughts
Mobile apps will remain to influence the way to live their lives in the coming years. Also, there is no hint that it is going to slow down soon. As more and more people rely on apps for convenience, app developers need to know what they can develop to address consumers' needs. To ensure that your app will be substantial and rake users and profit, you should create an app that will have a meaningful impact on modern users.