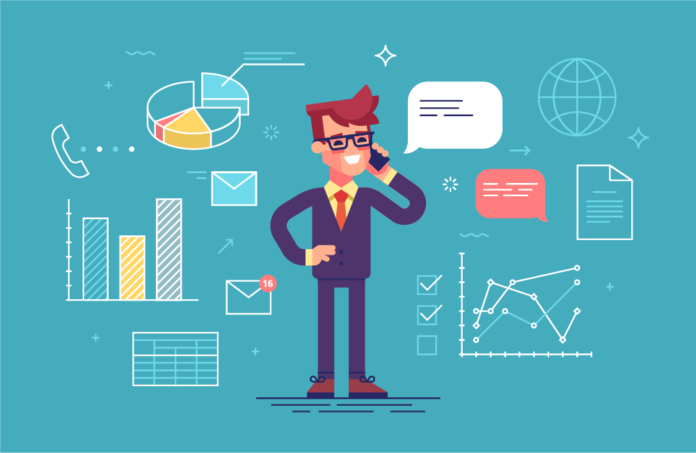 Introduction
Most small businesses, freelancers, and corporations with numerous agencies would need to track what they are doing. 
Business management software can enhance and simplify these processes, allowing you to run your company more efficiently and with fewer manual actions. 
In a nutshell, business management software can provide you with a workable approach to handle all of your business needs through a collection of tools.
What is Business Management Software, and how does it work?
Business management software is a combined solution for managing financial data, projects, and customer relationships. 
This collection of applications will help a company streamlining and automate its current processes by completing assignments, enhancing documentation, eliminating errors, and increasing performance. 
Some business management software, such as CRM or accounting, may focus on more than one field, but almost all can provide a cohesive way of running the business.
Although there is no one-size-fits-all solution for business management software, the majority will contain modules such as:
Project & task management

Time management & calendar

Resource management

Collaboration & document sharing

CRM & sales

Invoice, budget, and expense management

Business intelligence and dashboards

Accounting and financial reporting
Here is a brief review of the 20 best Business Management Software
1. Odoo
Odoo is a collection of open source business applications that help businesses grow their operations. 
It combines project management and sales into a single application and offers a range of POS, MRP, and e-commerce features. 
Many of these features assist companies in handling a range of activities. It eliminates the need for multiple operations to manage the sales process. 
It provides simplified and simple-to-use user interfaces.
Features of Odoo
Plenty of applications at one place different business requirements

Sales applications, CRM and more

Website applications

Productivity tools

Operations applications

Productivity tools  

Integration with different tools

Flexible accessibility
2. TimeCamp
TimeCamp assists in the creation of online time-tracking applications. Using the app, you can automatically track how much time you spend on your computer. 
It helps project managers monitor project status, track billable work hours, coordinate, generate invoices, and maintain attendance records. 
It also assists in developing sub-tasks in a project and delegating those tasks to the entire team. 
Features of TimeCamp
Automatic time tracking.

Attendance tracking.

Productivity tracking  

Customizable and shareable reports

Accurate billing and budget intelligence.
3. Accountri
Accountri is a SaaS-based complete business management platform that streamlines organizational workflow, simplifies administrative tasks, and facilitates collaboration between various departments such as operations, HR, and finance. 
It is an advanced automation tool that improves organizational efficiency by making complex tasks easier to complete.
Features of Accountri
Timesheets and payroll 

HRM software

Project  management  
Payments tracking.

Invoice generation 
4. ProDBX 
ProDBX, as a cloud-based construction software solution, allows for smooth integration and provides a unique approach to construction CRM system software for users from small, mid, and large businesses. 
Production planning, inventory management, payroll, integration, cash transactions, sales order, email marketing, automated workflows, digital data storage, digital documents, digital signature, and other features are among the most common. 
It helps users keep track of commissions, amounts, and planned due dates for each work order.
Features of ProDBX
Automated workflow

GPS routing and calendar scheduling

Customizable CRM

Project management through a centralized platform

Integrated email

Timecards payroll management
5. Utiliko 
Utiliko is a seamless business management platform that puts together all essential business resources into one location. 
Utiliko provides e-signature for forecast and contract management, billable time monitoring, email integration, and more. In addition to CRM, they provide project management, accounting, and HR.
Features of Utiliko 
Attendance management.

Task management.

Payment integrations

Project management

Support ticket system

Built-in e-Signatures.
6. Bitrix24
Bitrix24, a well-known free business management platform, has several powerful tools that help businesses run more smoothly. 
It provides you with over 35 free resources, ranging from CRM, project management, and invoicing to email marketing, application development, assignments, and HRMS. Furthermore, you have the option of running the software on-premise or using the cloud version.
Features of Bitrix24
Client Management

Project Management

Document Management

Workforce Management

Communication platform for employees
7. NetSuite OneWorld
NetSuite OneWorld is a strategic business management platform that enables modern businesses to scale and meet the market's ever-changing demands.
It's easier to handle the multi-subsidiary and global activities with OneWorld. In your endeavours, you will be able to deliver clarity and unification. 
Additionally, you will have the ability to customize the system to meet your specific business needs.
Features of NetSuite OneWorld
It has web stores that are multi-currency, multi-brand, multi-country and multi-language.

With changes to local taxation, currency, and legal enforcement, makes managing numerous companies scattered across the globe easier.

It automates various aspects of your global business.
8. Knack
Knack, one of the most popular business management solutions, is intended to make your business operations as simple as possible. 
Its feature set appeals to various companies, from large enterprises to small businesses and freelancers.
Knack provides you with all of the critical resources you will need to run your business smoothly. It helps in sales, accounting, CRM, project management, automation, or team collaboration. 
It removes the day-to-day pressures from your life, allowing you to concentrate on what you do best. All of this does without risking the privacy or protection of your data.
Features of Knack
Automated invoices and reports.

Accounting services include quote generation, accounting reports, and invoicing.

A robust CRM suite for better client and prospect management.

Time monitoring, project and task management help you stay on top of your game.

Tools for team coordination to make working together with a painless process for all.
9. Apptivo 
With Apptivo, you can get a variety of apps in one location. All will neatly arrange in one GUI, project management tools, CRM, or invoicing. Not only that, but it is accessible from anywhere on all of your devices, ensuring you don't miss any essential business updates or decisions.
Features of Apptivo
Task, project, and timesheet management.

Working together on projects.

Creating work orders and providing field support.

Online invoicing to pay and collect invoices from any location.

An online CRM solution to monitor the sales process from start to finish.

A customer service desk to support clients.

Workflow approvals and cost monitoring through a mobile device.

Tools for email marketing
10. Flowlu 
Flowlu takes the headaches out of running a business, whether you are a start-up or an existing organization, with its combination of all critical business management tools. 
The fact that the software is so easy to understand and use adds to its popularity.
Project preparation, task management, online CRM, collaboration, and more are all included in Flowlu. 
It also provides you with the resources you need to keep on top of your company finances at all times. Not to mention the TLS encryption that keeps your network secure.
Features of Flowlu
Remote access for the project and task planning, prioritization, and tracking.

Use an online CRM to keep track of leads, sales procedures, and interactions.

Communication in real-time.

Financial analysis and visualization can use to prepare for the future.

Automatic billing and fast online invoicing.

Project management tools that are agile.

To coordinate and exchange thoughts, build a knowledge base and a mind map.
11. Striven 
Striven is a standard business management system that caters to the needs of businesses of all sizes worldwide. 
It is an interactive platform with a variety of business management tools that makes work go faster.
Striven is an all-in-one platform that allows you to manage all of your vital business processes from a single dashboard. 
You get all of the critical characteristics in a personalized way, from accounting and reporting to projects and sales. You can also use it on your preferred devices from anywhere.
Features of Striven
Centralized data management 

Automated workflow management.

Robust accounting processes.

Sales, inventory and CRM management.

HRM and project productivity tools.

Flexible accessibility
12. Scoro 
Scoro is a comprehensive business management platform for both small and large companies.
Scoro simplifies everything from location, project management, finances, job management, or CRM and sales. 
It also lets you to schedule your time and keep track of everything in real-time. Your business processes become more streamlined, and your efficacy rises dramatically.
Features of Scoro
Personalized dashboards to track processes. Collaborative tools and interlinked digital workspace.
Resource allocation and project management.
Integrations with other tools
13. HoneyBook
HoneyBook is an all-in-one business management system that gives you more options with integrated features.
HoneyBook becomes the one-stop-shop for handling customers, organizing events, submitting invoices, and collecting payments. 
It lets you to have absolute control over the direction your work is taking at any given time. Simultaneously, it streamlines contact with both the team and your customers. 
Features of HoneyBook
Project management and tracking.

Online invoices and contracts

Automated task and email management

Compliant and expert proposals  

Integrations with other tools
14. StudioCloud 
StudioCloud is one of the best free business management software choices. It has everything you will need not only to run your company but to keep it ahead of the competition. 
It includes everything from accounting and employee management to invoicing, generate leads, and much more.
Features of StudioCloud
Client management.

Project management 

Bookkeeping and financial reports.

Automated emails, payment requests.

Timecard monitoring  
15. WORKetc
You can handle your whole business with WORKetc. Consider it a bridge that connects all of your disparate processes and teams with utmost ease.
You can rely on this cloud-based business management platform to keep it up to date, from your tasks to customer service to billing. 
The solution helps you communicate more efficiently with your in-office and remote staff while also allowing you to work from anywhere you wants.  
Features of WORKetc
Project management  

Sales and CRM management  

Role-based access to data.

team management and collaboration

Automation of recurring billing.

Tax compliance  
16. Zoho One
Zoho One is a powerful business management system that streamlines your sales, financing, human resources, sales, and operations. Whether it is capturing leads, generating quotes, or managing schedules and tasks, the solution allows you to navigate the processes with ease and enterprise-grade features. 
You can also configure the system to suit your unique business needs and benefit from unified admin access and control.
Features of Zoho One
An integrated solution for business applications.

e-signatures and contract management

Time tracking management

Project and expense management.

Centralized data management

Resource utilization and project-based billing.
17. Thryv 
Thryv is small business software that automates activities and increases customer satisfaction. 
The features available help you reach out to more customers, stay organized, get compensated faster, and generate feedback automatically.
Thryv allows you to integrate all of your business applications into a single, easy-to-use dashboard. With only one username, you can view your messages, check your calendar, monitor transactions, and leave feedback all in one place.
Features of Thryv
Customer Relationship Management

Marketing Automation

Reputation Management

Customer Communication

Sales & Payments

Document Storage & Sharing
18. Ivy
Ivy is a business management software for design firms seeking to run a more profitable and productive operation. 
The app allows you to source, invoice, order, and monitor your design company all in one place. Material procurement, plans and invoices, and room boards are all used to accomplish this.
Features of Ivy
Product management

Proposals & Invoices

Project Tracker

Time Tracking

Online Payments

Reports

QuickBooks Online Sync
19. ProofHub 
ProofHub is a business management and preparation platform that enables you to schedule, collaborate, organize, and complete projects of any scale on time. 
IT, design companies, sales and marketing, colleges, nonprofits, hospitals, real estate, manufacturing, and other sectors have all used ProofHub successfully.
Features of ProofHub
Time tracking

Task management

Project templates

Email-in

Multilingual

Integrations

Request forms
20. monday.com
monday.com helps you to schedule, arrange, and monitor all of your activities in one place. 
monday.com enables you to create a personalized workflow so that every team in the organization can work on anything they need in the most productive way possible.
You can use monday.com to build dashboards to gain insights into your business and monitor the project's progress.
Features of monday.com
Templates

Team collaboration

Team sharing

Customizations

Project overviews
Cloud Hosting Solutions for Business Management Software
Cloud-based Business Management software provides more flexibility in the workplace, paving the way for remote work advancement.
For your Business Management software, Sagenext provides an excellent cloud hosting solution.
With a team of dedicated professionals, Sagenext will help you transfer your Business Management software to the cloud with ease and provide comprehensive offerings for your business. 
Moving a business management system to the cloud is vital to unlocking growth potential and creates new collaboration opportunities.
Sagenext, a cloud service, will help you simplify the process so that your business can run at any time and from any location while maintaining the highest level of security and reliability.
Benefits of Cloud Hosting for a Business Management System
Flexibility
Cloud hosting provides almost limitless bandwidth and storage space, allowing businesses to scale up and down their capacities in real-time to support growth and cope with increased website traffic.
This lessens the demand for on-site facilities and modifications to be purchased and built.
In cloud hosting, employees can access software regardless of the time and location with an internet connection.
Business Continuation
Businesses can ensure reliable disaster recovery and backup solutions without the inconvenience of setting them up on a physical system by investing in cloud hosting. 
Investing in complex disaster recovery plans can be expensive for many companies, and backing up data takes time. 
The cloud designs so that data stored on it replicates across servers, meaning that data automatically back up if one fails.  
Cost Efficiency
The most important benefit of cloud hosting is the reduction of IT operating costs. Remote servers eliminate the need for in-house storage and program specifications and prices associated with software updates, management, and data storage. 
Cloud-based applications are often less costly to use because they are usually delivered on a pay-per-use basis, enabling businesses to access what they need while still ensuring a return on investment.  
Enhanced Collaboration
Collaboration between employees with access to the same files has dramatically improved in the cloud world. 
It reduces the connectivity limitations of conventional IT models, enabling workers working in various places to access information and communicate with team members and critical staff much more quickly and easily.  
Automatic Software Integration
Software integration, which occurs automatically in the cloud, is another primary advantage of cloud hosting. 
Businesses won't have to integrate their apps anymore manually. Computer apps and services can be quickly and easily customized using cloud technologies, enabling companies to select and choose which services better meet their needs.
Is Sagenext cloud hosting suitable for your Business Management software?
You have seen the advantages of a cloud-based Business management system.
Sagenext is a reputed hosting provider which ensures cost-effectiveness, scalability, versatility, agility, high performance, and security for your business.