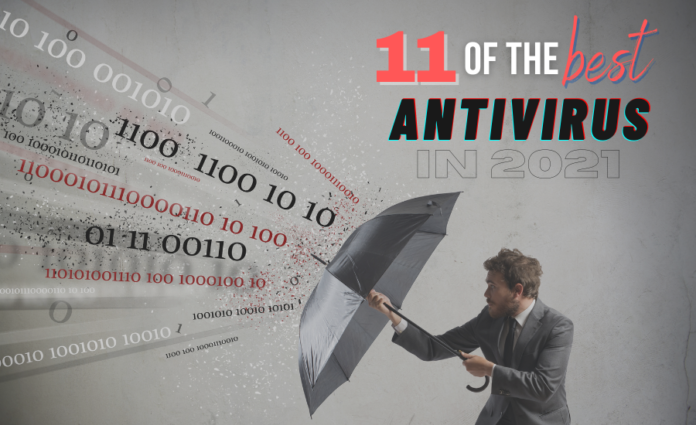 The Internet provides cybercriminals with limitless opportunities to deceive, trick, steal, rob, and exploit unwitting users with ever-mutating viruses, worms, and other malware. Statistics show that cybercrime costs will reach $6 trillion by the end of this year.  To protect yourself, you need to have antivirus software that detects and neutralizes threats so these attacks will not harm your computer system. 
If you want all-around security from any cyberattacks, investing in the right antivirus system innovation is the best option you can find these days. Moreover, using the best antivirus software in 2021 is not optional; it is necessary. You have to remember that malware now comes in all shapes and sizes. Any of these malware applications will inundate your device or computer. Some appear as pop-up advertisements. Others can lock you out of your device and demand ransom money in return for your content. 
Finding The Right Antivirus For You
Choosing the best antivirus security software for you requires an understanding of your needs. A simple free bundle that handles basic security is appropriate for several, while others require extensive protection. 
Packages like Kaspersky Total Security 2021 and Bitdefender Total Security are ideal for those with various computers running different operating systems. That is also vital for people who want a one-stop-shop that protects anything with a single license. These packages do a lot more than just guard against malware. It also has password managers, file shredders, virus protection, VPNs, parental controls, and other critical security features.
If you are not sure what suite to get, you can try a free antivirus trial from developers. You can take advantage of this and see how the security system blends with your workflow. Some find how specific suites distribute security information irritating, while others like it to be loud and alert them for anything malicious in the system. Doing this allows you to discover for yourself whether the performance is favorable to your needs in defending yourself from cyber threats. 
Antivirus You Can Consider To Get This Year
Depending on your needs and requirements, here are some of the antivirus worth checking and trusting out this year. 
Norton
Norton AntiVirus Plus is a special antivirus software from NortonLifeLock. The big draw in this brand is the sheer number of options available. That is present even with the entry-level antivirus product, not to mention the high quality of those features. 
They have a very helpful intelligent firewall and a massive benefit in policing your machine. This antivirus software also comes with some very detailed browser security steps to keep you secure even on your Wi-Fi network. There are also some bonuses that you won't find in most antivirus software. That is such a bundled backup tool with 2GB of online storage. It is also very user-friendly, making backup a breeze and appear handy with PC repair utilities.
Kaspersky
Kaspersky Total Security has a lot to offer. It has a high malware identification rate, combined with a marginal impact on device performance. Thus, it places near the top of the list for the best antivirus security. Kaspersky Total Security offers a five-device license, which comes with a yearly fee and includes Windows, Mac, iPhone, iPad, and Android devices. That is ideal for those who own several devices because it eliminates the need to pay more money. 
The company's entry-level product for Windows PCs, Kaspersky Anti-Virus, supports up to ten machines. While it does not have many features, Kaspersky focuses on the basics and does its job very well.
This brand's key antivirus capabilities are potent. Kaspersky ranked at or near the top of all of the most recent independent research lab tests. Kaspersky Anti-Virus works admirably against ransomware, destroying even unknown threats almost instantly and recovering the very few files hit by the attack. Kaspersky also has several helpful self-protection routines.
Avira
Avira is probably better known for its Avira Free antivirus alternative, which is among the best in the market. However, its premium packages are not to be overlooked. That is particularly given the fantastic price you can now pay for its Antivirus Pro bundle.
Avira's entry-level antivirus contains all you'd expect from a modern protection app. It comes with real-time malware detection, reliable ransomware protection, and a device updater function that works very well to keep all your apps safe. Moreover, it has a range of privacy resources, including a file shredder for added secrecy.
Bitdefender
Bitdefender is knocking out some tough competition and charging very little in terms of premium fees. The simple package isn't what you can deem costly. Of course, being inexpensive wouldn't mean much if Bitdefender's critical malware security was questionable, but that isn't the case. It is outstanding at protecting against malware, with a few minor caveats about how it dealt with some test ransomware threats. This antivirus obtained a top ranking from AV-Comparatives for its ability to deal with advanced threats.
Webroot SecureAnywhere
While Webroot SecureAnywhere is not a security solution with an outstanding performance in a lab test, it is notable for being quick and lightweight. It is packed with features making it a good platform for beginners. Moreover, it can block malicious URLs easily and protect you without any annoying restart triggers.  SecureAnywhere Internet Security Plus, a step up in the Webroot lineup, extends Windows and Mac PCs coverage to handheld devices. It also offers a password manager and can protect up to five users.
Avast Security
Avast Security provides a band of features to the company's well-known free antivirus offering. That includes, but is not limited to, a capable firewall, a file shredder, and a helpful Wi-Fi Inspector that checks the network for vulnerabilities.
You may also get privacy software, such as Sensitive Data Shield, to assist you in protecting your files. You can also conveniently find files containing classified and sensitive data. A software upgrade feature is also available to ensure that the apps are upgraded to the most recent version. Premium Security is also very clever in terms of configuration, and it provides you with a high degree of control over the implementation process. Find Avast Driver Updater Key to update software version. 
Malwarebyte
s
Malware attacks are becoming more common. It will compromise your files if you do not defend your operating system against it. Malwarebytes defend your computer against a virus or malware attack. It can perform reasonably well in recent independent malware protection tests. Moreover, you can also get the free antivirus version. Download this trial version, which "downgrades" to a no-fee on-demand cleaner with fewer features that detects and removes viruses and malware when you run an on-demand scan after 14 days. 
ESET
ESET is one of Europe's most well-known antivirus brands, with a low system-performance load and fast scans. Its malware identification rate used to be mediocre, but it has dramatically increased in recent lab studies. The entry-level ESET NOD32 Antivirus is quick to use. However, it lacks a range of valuable extra features. ESET Internet Security includes camera support, parental controls, and a browser-hardening plugin. Moreover, it has licenses for ESET security applications for Mac, Android, and Linux computers.
The most expensive ESET Smart Protection Premium version has file encryption and a password manager. However, no VPN client, backup program, or file shredder is included. ESET's price is per unit, ideal for consumers who will like to cover more than a few devices. 
McAfee
McAfee's malware identification has significantly improved in recent years, but it is also not at the top of the game. Nonetheless, the entry-level McAfee AntiVirus Plus is a good option. It cost around $60 a year gives you apps for up to ten computers that run Windows, macOS, iOS, or Linux. When you get it, you have as well as a disk shredder and a two-way firewall.
McAfee Internet Security provides one of the best password managers around. If you want parental controls, you can get the McAfee Complete Defense or its sibling McAfee LiveSafe, which comes pre-installed on several new PCs. These two security suites' multi-device licenses also provide an identity-protection service. However, none of the McAfee offerings have a stable window or webcam security, popular with other high-end antivirus programs.
Trend Micro
Trend Micro provides excellent security, but its malware-detection engine causes significant device load during scans and generates a substantial amount of false-positive results. Trend Micro Antivirus+ Software, the brand's entry-level application, has limited tools but does include a secure web browser. Trend Micro Internet Security comes with parental controls, a device optimizer, and a disk shredder.
Trend Micro Medium Security includes a password manager, a secure browser, and file encryption, while Trend Micro Premium Security includes a VPN and personal data tracking on the dark web. Another plus is that this antivirus is the best at blocking phishing sites. It offers excellent web browsing security, like Pay Guard, as a safe atmosphere for online banking.
Sophos Home
Sophos Home Premium does its job efficiently, providing adequate malware security at a fair price. Sophos Home Premium may lack all of the bells and whistles that other security suites have. However, it gives the basics. To name a few, it has ransomware rollbacks, camera protections, and security against keyloggers malicious domains, and boot-sector and fileless malware. It also provides a web-filter system for parents and an online control console from which you can change the bulk of the settings. 
Final Thoughts
When you opt for cybersecurity services like antivirus, get extra features such as spam filtering, parental controls, device scans, and enhanced firewalls. As a result, they are best suited to power users, anyone needing increased protections, and anybody who wants their device to operate as smoothly as possible. To know which of the best antivirus you will get, evaluate your requirements and needs. Take advantage of free trials so you can test each suite before investing in a security system.